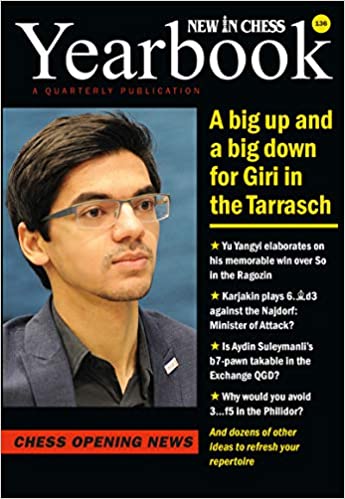 New In Chess Yearbook 136 (PB)
229,00 kr.
Varenummer: NEW136
New In Chess Yearbook, which appears four times a year, contains the latest new in chess openings.
Each issue brings you dozens of new ideas on the cutting edge of modern chess opening theory.
The Yearbook not only covers the latest fashions, but also offers fresh insights into underrated gambits, rare continuations, and almost forgotten weapons.
Forum
Like many Surveys in Yearbook 136, the Forum Section also shows that even in these difficult times we won't be deprived of opening novelties. Han Schut and René Olthof provide snapshots of a novelty in the 4.d3 Berlin and a quite shocking blunder respectively, both by Magnus Carlsen. Regular contributor and Dragon fan Wayne Gradl comes up with an attack as Black in the Nimzo-Indian, played in an email game by himself, and Rafal Ogiewka continues to bombard us with his amazing discoveries.
From Our Own Correspondent
Erwin l'Ami, our columnist on correspondence chess, got carried away by a King's Gambit he saw, resulting in 'a full overview on this fantastic opening' - 21st century style, of course. This column also features a deep analysis by guest contributor GM Krishnan Sasikiran, who has grown to be a prominent correspondence player, of a completely new idea in the Zaitsev line (the famous 9 ... e3 from the 1987 Kasparov-Karpov match) of the Reversed Sicilian.
Reviews
Glenn Flear reviews three books and two DVD's. The English GM was surprised by the many creative findings by Semko Semkov in his book The Modern Triangle, and also by Daniel Hausrath's debut Double Fianchetto, which offers a 'lifestyle change' involving a minimum of memory work. Ilya Odessky's Winning Quickly with 1.b3 and 1 ... b6 is bewildering, strangely organized, but 'tremendous fun'! The two DVD's Flear reviews are by top theoreticians: Erwin l'Ami's The Benko Gambit Explained and Rustam Kasimdzhanov's The Benoni is back in business.
Surveys
1.e4 openings
Sicilian Defence - Hungarian Variation 4.Qxd4 - Gupta
Sicilian Defence - Najdorf Variation 6.Bd3 - Külaots
French Defence - Tarrasch Variation 3...h6 -Jones
Caro-Kann Defence - Exchange Variation 4.Bd3 - Mchedlishvili
Caro-Kann Defence - Advance Variation 4.c4 - Petrov
Caro-Kann Defence - Classical Variation 4...Bf5 - Tekeyev
Petroff Defence - Steinitz Variation 3.d4 - Ris
King's Pawn Openings - Philidor Defence 3...f5 - Moll
King's Pawn Openings - Ponziani Opening 3...Nf6 - Bosch
King's Pawn Openings - Four Knights Opening 4.Bb5 Nd4 - Flear
1.d4 openings
Queen's Gambit Declined - Blackburne Variation 5.Bf4 - Adams
Queen's Gambit Declined - Alatortsev Variation 5.Bf4 Nf6 - Sokolov
Tarrasch Defence - Semi-Tarrasch 6.e4 - Saric
Catalan Opening - Bogo-Indian Variation ...Bb4+ - Ikonnikov
Catalan Opening - Open Variation 6...dxc4 - Ninov
Nimzo-Indian Defence - Classical Variation 4.Qc2 - Ponomariov
Nimzo-Indian Defence - Ragozin Variation 5.Qb3 - Yu Yangyi
Nimzo-Indian Defence - Ragozin Variation 5.cxd5 - Timman
King's Indian Defence - Classical Main Line 9.Ne1 - Jankovic
King's Indian Defence - Old Main Line 7...exd4 & 9...c6 - Ntirlis
King's Indian Defence - Makogonov Variation 5.h3 - Szabo
King's Indian Defence - Fianchetto Variation 6...Nc6 - Stella
Benoni Defence - The Bd3, h3 System - Lalic
Benoni Defence - Benko/Volga Gambit 7.e4 0-0 - Karolyi
Others
English Opening - Reversed Sicilian 2...c6 - Ilczuk and Panczyk