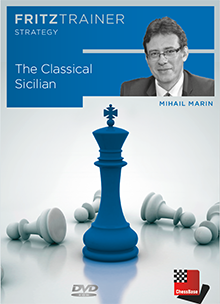 Marin: The Classical Sicilian (DVD) (Chessbase)
229,00 kr.
114,50 kr.
Varenummer: 4027975008233
The Sicilian family is big but the Sicilian that puts most pressure on White's centre is the Classical Variation - Black quickly develops both knights to their most active squares. Now the English Attack, a dreaded weapon against Najdorf- and Scheveninger variations, is completely inoffensive.
Moreover, the Richter-Rauzer Attack, a traditional main line in the Sicilian, does not give White the irrational attacks he might try against other Sicilians. The system of defence and counterattack recommended on this DVD leads to positions where strategic elements are at least as important as tactics. Against the positional systems Black has a relatively wide choice, including transpositions to peaceful Dragon and Scheveninger variations. But the most typical setup for the classical Sicilian is the Boleslavsky system (...e7-e5), examined on the DVD. This DVD offers Black a complete repertoire against all weapons White may employ on move six. The recommended repertoire is not as risky as other Sicilians but still offers Black plenty of counter-play. It is an ideal system for players who want to enter the wonderful world of the Sicilian.
Video running time: 5 hours (English)
With interactive training including video feedback
Exclusive training database with 150 games
Including CB 12 - Reader
Mihail Marin, born in 1965, has several times been Romanian champion and first made the leap over the Elo barrier of 2600 in 2001. Marin possesses a rare gift for a grandmaster - he is able to explain in readily comprehensible terms the ideas behind moves, variations and positions. This ability is
there for all to admire in his contributions to ChessBase Magazine. Marin has written some books which have earned the highest of praise, among which are "Secrets of Chess Defence" and "Learn from the legends".
System requirements:
Minimum:
Pentium III 1 GHz, 1 GB RAM
Windows Vista, XP (Service Pack 3)
DirectX9 graphic card with 256 MB RAM
DVD-ROM drive
Windows Media Player 9 and internet connection for program activation
Recommended:
PC Intel Core i7, 2.8 GHz, 4 GB RAM
Windows 7 or Windows 8, DirectX10 graphic card (or compatible) with 512 MB RAM or better
100% DirectX10 compatible sound card
Windows Media Player 11
DVD-ROM drive and Internet connection for program activation