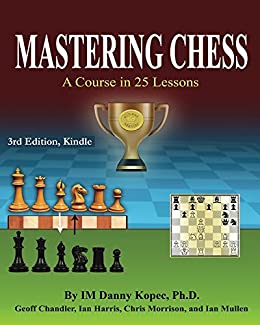 Kopec, Danny m.fl: Mastering Chess 2. udgave
169,00 kr.
84,50 kr.
Varenummer: 9781491277478
Mastering Chess is a unique book in that it covers the essentials which every aspiring chess player must know well (from Novice to Expert) to reach
the chess Master level. The first edition was popular for some 20 years (from 1985 - 2005) while in print with four different publishers (including Pergamon/Oxford, Cadogan and Everyman/London, Dover / Mineola, NY).
It has been rated one of the five best chess books of its kind.

Each Chapter of this new edition has new material added and the book has essentially doubled in size.
Each Chapter includes new Exercise positions with solutions. Besides being a self-study self help book, it was designed for chess teachers and chess courses.

First there is a spritely written 1st Chapter on Tactics and Combinations by Geoff Chandler of Edinburgh Scotland. Mr. Chandler has updated his popular work with observations of play and missed opportunities from Internet play. The 2nd Chapter introduces a new author (Life Master Ian Harris) and a new approach to how openings can be learned. It presents Dr. Kopec's idea that openings can be learned from the perspective of the following
five goals: 1) Development 2) Center Control 3) King Safety 4) Space and 5) Material Balance. Dr. Kopec has been expousing this idea for a number of years in his lectures and chess camps. If effective, it is a novel way of teaching a subject that entails volumes and volumes of books over a number of centuries! Mr. Harris has developed this Chapter spanning some 50 pages in conjunction with Dr. Kopec.

Dr. Kopec has added new material to his Chapter 3:
How To Analyze a Position including lessons on the
topics: The Point Count Method, Grand Central Station, and Don't Believe Everything Your Computer Tells You. New exercises have also been added at the end of this Chapter.

Chapter 4 (by Chris Morrison) has also been extended with an additional lesson entitled "Good and Bad Pieces" and number of additional exercises.

Chapter 5 (by the late Ian Mullen) has been extended with a lesson entitled "More Advanced Endings". This Chapter has always proven very useful for teachers and courses on the endgame. The material is suitable for players from Novice to Master! There are also additional exercises for this
chapter, samples of material which you find in the new edition of Dr. Kopec's and Hal Terrie's 3rd edition of "Test,Evaluate, and Improve Your Chess: a knowledge-based approach" 415 pages, (2013, Createspace / Amazon.

Finally, there is a new Appendix B: including Mastery Lessons by the World Champions which presents games by World Champions illustrating their skill in at least one of the five Chapters of the book:
1) Tactics and Combinations 2) Opening Principles and Ideas 3) How to Analyse a Position 4) How to Formulate a Plan and 5) Essential Endgame Knowledge. This is a preview to Dr. Kopec's likely next work -- a video on The History of the Chess World Championship.