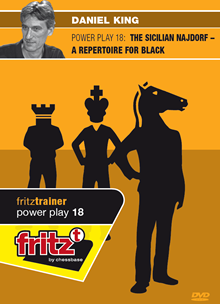 King, Daniel: Powerplay 18 - The Sicilian Najdorf - A repertoire for Black
229,00 kr.
Varenummer: 4027975007021
The Najdorf Variation of the Sicilian Defence is the opening of champions. Kasparov, Anand and Bobby Fischer all made this uncompromising opening a central part of their repertoire – with success. Grandmaster Daniel King is a life-long practitioner of the Najdorf. On this DVD he explains the fundamental principles of the opening and offers a repertoire of systems for Black against all of White's major alternatives. Whether you are new to the Najdorf or already have experience with the opening, this DVD is suitable for you. The Najdorf has a reputation for complexity, but this is undeserved. Strategy is often determined by pawn structure, and as Black's structure is often the same in many variations of the Najdorf, this opening is actually much simpler to understand compared to others. King demonstrates that an understanding of positional principles can lead Black through this seemingly complex opening, into the middlegame and right through to the endgame. As well as up-to-date theoretical information, classic games are examined, putting theory in context and demonstrating typical strategies. Video runningtime: 6 hours.
Minimum: Dual Core, 2 GB RAM, Windows 7 or 8.1, DirectX11, graphics card with 256 MB RAM, DVD-ROM drive, Windows Media Player 9, ChessBase 14/Fritz 16 or included Reader and internet access for program activation. Recommended: PC Intel i5 (Quadcore), 4 GB RAM, Windows 10, DirectX11, graphics card with 512 MB RAM or more, 100% DirectX10-compatible sound card, Windows Media Player 11, DVD-ROM drive and internet access for program activation.


Level
Advanced, Professional, Tournament player