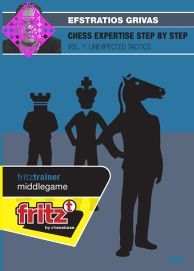 Grivas: Chess Expertise Step by Step: Vol 1 Unexpe Tactics (DVD)
229,00 kr.
114,50 kr.
Varenummer: 4027975006451
Tactics in chess are sequences of moves which limit the opponent's options and may result in a tangible gain by force. They are usually contrasted with strategy, in which advantages take longer to be realised and where the opponent is less constrained in his choice of reply. Tactics are an essential part of chess, since even purely positional games may contain certain moments where one cannot do without sharp calculations.
The fundamental building blocks of tactics are forks, skewers, batteries, discovered attacks, undermining, overloading, deflection, pins and interference. This DVD covers important sections of this field and helps to understand in depth the proper handling of (unexpected) tactics in certain cases. We will examine how to achieve (or to avoid) mate on the back rank, the strength of the 'dancing' knights, how to sac the queen near the opposing king, how to march with the king, how to use efficiently the f4-break and finally how to make sacrifices to gain the initiative. As Nigel Short once said, 'Modern chess is too much concerned with things like pawn structure. Forget it - checkmate ends the game!'.
Video running time: 4 hours
Efstratios Grivas is a Grandmaster and highly experienced chess trainer and chess author. He lives in Athens, and he is also a FIDE Senior Trainer (Secretary of the FIDE Trainers' Commission), an International FIDE Chess Arbiter and an International FIDE Chess Organizer. He has represented his country on a great many occasions, winning the 4th position in the World Junior Championship 1985, an individual gold medal at the 1989 European Team Championship and an individual silver medal at the 1998 Olympiad. In 2010 he was awarded the worldwide highly important FIDE TRG Awards - Boleslavsky Medal (best author) for 2009.
System requirements:
Pentium-Processor at 300 Mhz or higher
64 MB RAM
Windows 7, Windows XP, Windows Vista ®
DVD drive
mouse
soundcard