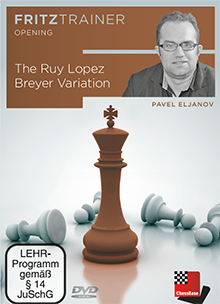 Eljanov: The Ruy Lopez Breyer Variation (DVD) (Chessbase)
229,00 kr.
114,50 kr.
Varenummer: 9783866814936
The Spanish Opening is often called the "Queen of Openings". If you master this opening, you understand a lot about chess. One of the most popular systems in the Spanish Opening is the Breyer variation, in which Black retreats his already developed knight from c6 to b8 to relocate it via d7 to better squares. The Hungarian chess master Gyula Breyer recommended this move in 1911 but was far ahead of his time with this idea. It took decades before the power of this move was understood, but now the Breyer variation, which begins with 9...Nb8, is part of the repertoire of many top players, among them the last four World Champions Kasparov, Kramnik, Anand, and Carlsen. On this DVD, Pavel Eljanov, one of the greatest experts of the Breyer variation, shows all important variations of this system. In 14 video lectures he gives an overview of the current state of theory. The top player shows the moves and explains the ideas behind them while evaluating the arising positions from a black perspective and with a view to the coming middlegame.
Video running time: 5 hours 13 min (English)
With interactive training including video feedback
Training database with 50 essential games
Including CB 12 Reader
The Ukrainian Grandmaster Pavel Eljanov is one of the world's best players - September 2010 he had a rating of 2761 (so far his best) and was number six in the world. At the Chess Olympiads 2004 and 2012 he won gold with the Ukrainian team. Eljanov is also a renowned opening expert and coach - from 2006 to 2012 he worked with Boris Gelfand and during the World Championship match 2013 he supported Magnus Carlsen as second
System requirements:
Minimum:
Pentium III 1 GHz, 1 GB RAM
Windows Vista, XP (Service Pack 3)
DirectX9 graphic card with 256 MB RAM
DVD-ROM drive
Windows Media Player 9 and internet connection for program activation
Recommended:
PC Intel Core i7, 2.8 GHz, 4 GB RAM
Windows 7 or Windows 8, DirectX10 graphic card (or compatible) with 512 MB RAM or better
100% DirectX10 compatible sound card
Windows Media Player 11
DVD-ROM drive and Internet connection for program activation