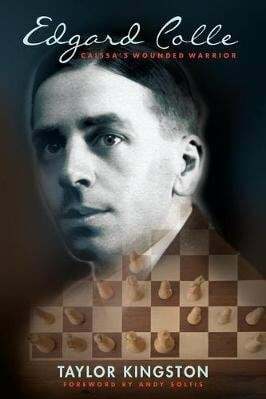 Kingston, Taylor: Edgar Colle (PB)
189,00 kr.
Varenummer: LXKINEC
The Belgian master Edgard Colle was one of the most dynamic and active chess players of the 1920s and early 1930s. Though his international career lasted only ten years, Colle played in more than 50 tournaments, as well as a dozen matches. Moreover, he played exciting and beautiful chess, full of life, vigor, imagination and creativity. As with such greats as Pillsbury and Charousek, it was a tragedy for the game that his life was cut short, at just age 34.
Author Taylor Kingston has examined hundreds of Colle's games, in an effort to understand his skills and style, his strengths and weaknesses, and present an informed, balanced picture of him as a player. Colle emerges as a courageous, audacious, and tenacious fighter, who transcended the limitations his frail body imposed, to battle the giants of his day and topple many of them. 110 of Colle's best, most interesting, and representative games have been given deep and exacting computer analysis. This often revealed important aspects completely overlooked by earlier annotators, and overturned their analytical verdicts. But the computer's iron logic is tempered always with a sympathetic understanding that Colle played, in the best sense, a very human kind of chess.
Though not intended as a tutorial on the Colle System, the book has many instructive examples of that opening. Additionally, there is an extensive excerpt from Max Euwe's Gedenkboek Colle, several other memorial tributes, biographical information about many of Colle's opponents, his full known tournament and match record, and all his available tournament crosstables.
We invite the reader to get acquainted with this wounded but valiant warrior, whom Hans Kmoch called a "chess master with the body of a doomed man and the spirit of an immortal hero."

Content:

005 Author's Preface
007 Foreword by Andy Soltis
010 Annotation Symbols and Frequently Used Abbreviations
012 Part I: Biographical Basics, Historical Background, Colleagues' Reminiscences, and Memorial Tributes
015 Gedenkboek Colle by Max Euwe
025 Hans Kmoch in the Wiener Schachzeitung
026 Bataviaasch Nieuwsblad
028 Fred Reinfeld in Colle's Chess Masterpieces
029 Part II: Annotated Games
032 Marvelous Miniatures
051 An Abundance of Brilliancies
061 Colle Lucks Out
091 Follies, Failures, and Might-Have-Beens
103 Colle and the Endgame
121 Colle and Positional Play
141 Colle's Fighting Games
201 Salvaging the Draw
212 Colle and Yates
223 Colle's Gem
228 Swan Song
234 Epilogue
235 Appendix A: Unannotated Games
238 Appendix B: Colle's Tournament and Match Record
242 Appendix C: Tournament Crosstables
268 Bibliography
270 Index of Players
272 Index of Openings
Forlag
Russell Enterprises, Inc.