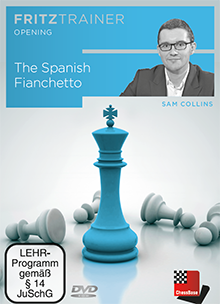 Collins: The Spanish Fianchetto (DVD)
229,00 kr.
114,50 kr.
Varenummer: 9783866815636
Please note that an Internet connection for program activation is necessary to use this DVD!
It's your move! The new Fritztrainer generation
Interactive, communicative and efficient. These are the distinguishing features of the recently developed training format by ChessBase. You are transformed from a spectator into a participant! Answer every one of your trainer's questions by entering a move. It doesn't matter whether you score a bullseye or not: your trainer will provide you with feedback. Like that, you assimilate variations and motifs with every move!
---
IIn the fight for playable, unbalanced positions after 1.e4 e5, many top players (including World Champion Magnus Carlsen) turned to 3 ... g6 against the Ruy Lopez (2.Nf3 Nc6 3.Bb5). Black aims for a kingside fianchetto combined, depending on White's reaction, with ... Nf6 or a quick ... f5. Play quickly goes outside normal Ruy Lopez patterns and often reaches positions more typical of a King's Indian, particularly when White closes the centre with d5. Black hopes that 1.e4 players will be less familiar with this territory, and the natural kingside attacking chances it offers the second player. In this DVD, Sam Collins explains the key ideas of 3 ... g6 and provides a complete repertoire for Black, suitable for regular use.
Video running time: 4 h 9 min (English)
With interactive training including video feedback
Extra: More than 800 Games from this variation
Including CB 12 Reader
------
SYSTEM REQUIREMENTS:
Minimum :
Pentium III 1 GHz, 1 GB RAM
Windows Vista, XP (Service Pack 3) ®
DirectX9 graphic card with 256 MB RAM
DVD-ROM drive
Windows Media Player 9 and internet connection for program activation.
Recommended:
PC Intel Core i7, 2.8 GHz,4 GB RAM
Windows 7 or Windows 8 ®
DirectX10 graphic card (or compatible) with 512 MB RAM or better
100% DirectX10 compatible sound card
Windows Media Player 11
DVD-ROM drive and internet connection for program activation.