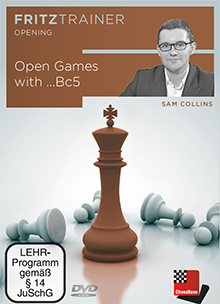 Collins: Open Games with ...Bc5 (DVD)
229,00 kr.
114,50 kr.
Varenummer: 9783866815957
Experienced trainers often recommend playing positions with similar pawn structures, so that ideas learned in one variation can easily be transferred to another. With a similar objective, Sam Collins has designed a repertoire based on systems with ... Bc5 after 1.e4 e5. Each of these lines (built around 3 ... Bc5 against the Ruy Lopez and the Italian, the Spanish Four Knights with 4 ... Bc5, 3 ... Bb4+ 4.c3 Bc5 against the Scotch, and 2 ... Bc5 against the King's Gambit) share common aspirations of developing the bishop actively outside the pawn chain, fighting for control of the key d4-square and ultimately supporting attacking ideas on the kingside. They also share common challenges, such as the risk of the bishop being buried by pawns on c3 and d4, the Nxe5! fork trick, and the potential for an unpleasant pin of Black's king's knight with Bg5. This DVD will equip players to play each of these lines as Black with confidence, and develop their understanding of an active and classical approach against 1.e4.
Video running time: 5 h 13 min (English)
With interactive training including video feedback
Extra: Database with 1646 Extra Games
Including CB 12 Reader
Sam Collins is an International Master from Ireland. He has two GM norms and has been national champion of Ireland and Japan. He has represented Ireland in eight Olympiads, winning a gold medal in Bled 2002. He has also produced several bestselling DVDs for Chessbase.
System requirements:
Minimum:
Pentium III 1 GHz
1 GB RAM
Windows Vista, XP (Service Pack 3)
DirectX9 graphic card with 256 MB RAM
DVD-ROM drive
Windows Media Player 9
internet connection for program activation
Recommended:
PC Intel Core i7, 2.8 GHz
4 GB RAM
Windows 10
DirectX10 graphic card (or compatible) with 512 MB RAM or better
100% DirectX10 compatible sound card
Windows Media Player 11
DVD-ROM drive
internet connection for program activation