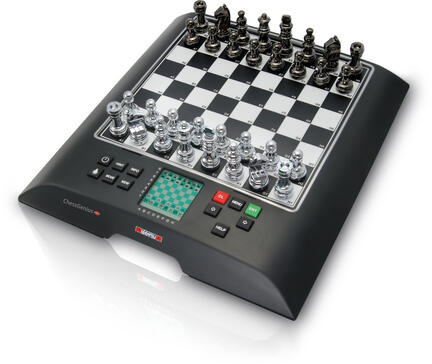 ChessGenius Pro, Millennium
1.269,00 kr.
1.059,00 kr.
Varenummer: 4032153008127
The chess computer for ambitious players. With the world-famous software by Richard Lang.
The ChessGenius Pro will challenge you even more than its little brother ChessGenius. With its up to 2,200 ELO also strong club and tournament players find their playing partner here. The opening libraries and the analysis mode keep experienced players busy. The ChessGenius Pro became winner of a chess computer tournament in Kaufbeuren 2016 immediately after its introduction on the market.
Optically the device captivates with a noble figure set from chrome, black chrome and figure felt. The ChessGenius Pro combines performance and optics to an unbeatable package.
In addition to a more elegant optic, the chess computer provides especially a significant higher skill level, it achieves more than 2.200 ELO after international tournamant standard. This was achieved through a variety of hardware and software modifications, such as:
much faster 120 MHz processor

160 KB RAM

automatic power supply recognition with influence on the sleep mode

significantly improved sensory chess board

two libraries of opening moves: the 'Classic London Book', with approximately 57,000 positions, and the 'Modern Book', with more than 100,000 positions

Ability to show the move number

New Mate in X Level to solve chess problems

Exclusive felt-bottomed chrome pieces
The product is specially made to all the Chess Enthusiasts, expecting a next level chess computer.
Due to the much faster processor we strongly recommend using the AC adaptor (our art. no. CXADAMCG ), which can be bought separatly.
Technical data: Processor: ARM Cortex M4 / 120 MHz / 160 kB RAM, Chessboard: Pressure sensory board, Display: Backlit chessboard display, Menu navigation: Text-based, 7 languages, Languages: GB / DE / FR / NL / ES / IT / RU, Software: CHESS GENIUS (by Richard Lang), Dimensions: approx. 30 x 27.6 cm, Power supply: 3 x AA LR6 1.5V alkaline batteries (included) or via AC adapter (not included)
Scope of delivery: Chess board Chess Genius Pro, White chrome and dark chrome felt-bottomed chessmen, Instructions Manual with Service, 3 pcs batteries AA Type LR 06 1,5V
Sprog
Engelsk, Fransk, Hollandsk, Italiensk, Russisk, Spansk, Tysk