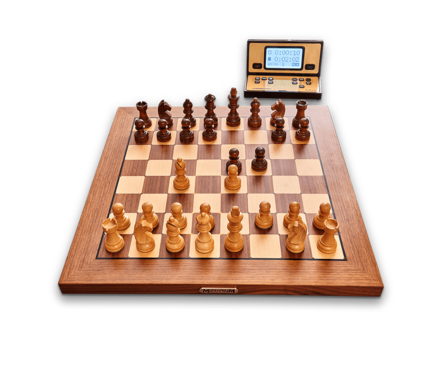 ChessGenius Exclusive, Millennium
4.499,00 kr.
Varenummer: CXMCGE
The chess computer for high comfort and demand. In real wood with fully automatic piece recognition. Online capable via ChessLink module & app. With the ChessGenius Exclusive and its handmade wooden board you take the step into the luxury class of chess computers.
The usual "pressing" on the board is no longer necessary - move the pieces as naturally and comfortably as on a classic chess board. The worldwide eunique RFID piece recognition of the ChessGenius Exclusive makes it possible!
You concentrate purely on your game. Because moves from the computer are displayed directly on the board via the elegantly recessed 81 LEDs. The computer unit serves as your chess clock. With the automatic piece recognition every position is very easy to set up. These functions provide a completely natural playing feeling. This is how chess is fun!
With use of the optional ChessLink module (not included) and the free app (same name) you can play online via the board .
Thanks to its modular structure, the system can be expanded at any time, without having to exchange the heart - board and pieces. Treat yourself to pure chess enjoyment!
With a skill level of up to 2300 Elo

Flat real wood chessboard, 40 x 40 x 2 cm with fully automatic piece recognition

Move display with 81 single field LEDs, 4 per square

Handcrafted wood chess pieces, king height approx. 74 mm, two queens per color

Computer unit with large backlit display, can also be used as a chess clock

Cursor-controlled menu navigation with a choice of 7 different languages: GB, DE, FR, NL, ES, IT, RU

Classic London Book (approx. 57000 positions)

New Master Book (approx. 300000 positions)

Countless difficulty levels, infinitely configurable

Fun levels for beginners

Easy levels (limits to calculated levels)

Fast chess and rapid chess

Tournament chess with/without chess clock, etc.

Wide variety of setting options (display contrast, computing speed, board rotation etc.)

Shows suggested moves

Shows position rating and main variant as well as permant brain calculations

Displays the calculation depth and number of moves analysed

Entering chess positions is child's play thanks to automatic chess piece recognition

Monitor positions via the on-screen board display

Analysis mode with countless options
Power supply with mains adaptor (included) or with optional accupack "ChessVolt" art no CXMCV (not included)
Sprog
Engelsk, Fransk, Hollandsk, Italiensk, Russisk, Spansk, Tysk