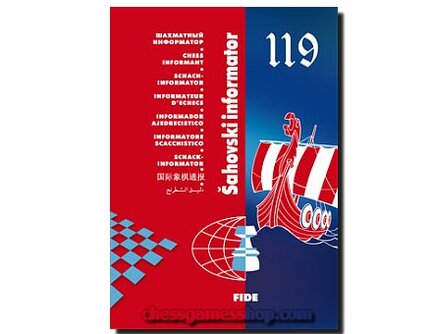 Chess Informant 119 (PB)
229,00 kr.
39,00 kr.
Varenummer: LI119
Chess Informant 119 Viking is largely dedicated to the newly crowned world champion, Magnus Carlsen . We offer exclusive Carlsen photos inside Chess Informant 119 , but for the cover we preferred the symbolism of a sailing drakkar boat.
GM Sarunas Sulskis closely follows the new world champion throughout his first tournament as the official king of chess. GM Suat Atalik , annotates all ten games from the World Championship match Anand - Carlsen in Chennai. The "Old Wine in New Bottles" column by GM Mihail Marin questions the known aphorism "all rook endgames are drawn".
DAVID VS. GOLIATH (TUR-RUS)
German journalist and author Harald Fietz , covers the Russia-Turkey match. All the heroes from the Turkish team (GMs Solak, Ipatov, Esen and Yilmaz ) annotate their games. In "No Fear" column, GM Alex Ipatov offers some memorable games.
GM Rafael Leitao won the Brazilian championship for the sixth time in his career. Still, he used his own success as a mere starting point in his "Bossa Nova" column.
Legendary American GM Alex Yermolinsky is a welcome new columnist. In "Route 66 Chess" column he include games played by Shabalov, Troff and Shankland .
C3 SICILIAN - BOOK IN THE BOOK
Top Greek player,GM Vassilios Kotronias . Readers will not only find four of his excellent wins from the European Team Championship (in the Games section), but his very special contribution column that will build your complete repertoire in the 2.c3 Sicilian.Informant 119 is bringing the first of four parts of this original analysis.
The CI Labs opening section is here as well with two articles, both dedicated to the newest opening fashion: the Sicilian Najdorf [B90] by GM Dimitrios Mastrovasilis and the Semi-Tarrasch Defense [D41] by GM Milos Perunovic .
Chess is a global game! GM Sarunas Sulskis had a very pleasant trip to Iraq (!) where he played in and reported on an interesting but from some reason non-rated tournament, won by GM Sergey Tiviakov . Still another column in Informant 119 leads us to the Far East; Chess Asia by Philippine journalist and author Bobby Ang covers the high-prized Indonesian Open. You will find annotations by the participants GMs Oliver Barbosa and Ivan Ivanisevic , along with an interview with the winner, GM Alexei Dreev .
TRADITIONAL GAMES SECTION

- 200+ games annotated by the players themselves and our GM and IM staff . Other sections: Combinations, Endings, and Studies etc.