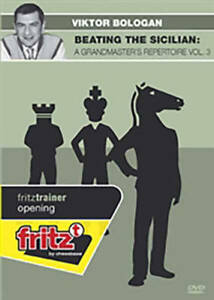 Bologan, Victor: Beating the Sicilian - vol. 3
229,00 kr.
114,50 kr.
Varenummer: 4027975006659
In the third volume of the Open Sicilian we will deal with Black's second move 2....e6 which he usually adopts when striving for a complex game full of subtleties in order to outplay White, especially when his opponent is lower rated. But the reverse of the medal is that Black assumes quite high risks, and with strict reactions White can pose him serious problems. Of course the DVD is mainly dedicated to all kinds of Paulsen lines with 4 ... a6 and 4 ... Nc6, where against most of the main variations I advise the same setup we use against Najdorf and Dragon with Be3, f3 and Qd2, usually followed by long castle. Despite the many games being played every day, Black is still far from safe equality here. Apart from some side lines like 5 ... Bb4, quite important is to learn how to play the classical Keres Attack. After 6.g4, my recommendation, only the variation with 6 ... e5 still poses White unpleasant questions - to which of course I have tried to come up with some answers... With the final word on the Sicilian trilogy, I would encourage the viewer to play the Open Sicilian and to have the DVDs as partners, consultants and if lucky a friend in both critical and good situations.
Video running time: 5 hours.

Viktor Bologan is a pupil of the top Moldovan trainer Vecheslav Chebanenko. For many years Bologan has been the number 1 in Moldova and has represented his country in nine chess Olympiads. His greatest successes were in 2003, when he first of all won the Aeroflot Open and then the famous Dortmund Tournament, ahead of Kramnik and Anand. The Moldovan has extensive experience as a trainer and has also published his first books.

System requirements:

Pentium Processor 300 MHz or better, 64 MB RAM, Windows XP, Windows Vista, Windows 7 ®, DVD Rom drive, mouse, soundcard